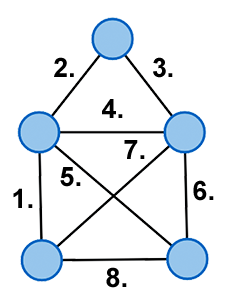 Cycle without using edges twice
Computing Eulerian cycles
Being a postman, you would like to know the best route to distribute your letters without visiting a street twice? This problem of finding a cycle that visits every edge of a graph only once is called the Eulerian cycle problem. It is named after the mathematician Leonhard Euler, who solved the famous Seven Bridges of Königsberg problem in 1736.
Hierholzer's algorithm, which will be presented in this applet, finds an Eulerian tour in graphs that do contain one.
What do you want to do first?