Maximum matchings in general graphs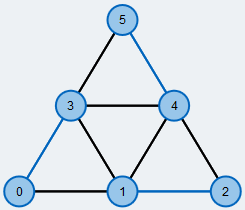 Maximum matching in a general graph.
Edges contained in the matching are colored blue.
An often occuring and well-studied problem in graph theory is finding a maximum matching in a graph \( G=(V,E)\). A matching M is a subset of edges such that every node is covered by at most one edge of the matching. M is a maximum matching if there is no other matching in G that has more edges than M.
This website is about Edmonds's Blossom Algorithm, an algorithm that computes a maximum matching in an undirected graph. In contrast to some other matching algorithms, the graph need not be bipartite. The algorithm was introduced by Jack Edmonds in 1965 and has been further improved since then. Many exact modern algorithms for the maximum matching problem on general graphs are still based on the ideas of the Blossom Algorithm.
Edmonds's Blossom Algorithm uses and extends the essential ideas of the Hopcroft-Karp algorithm, which computes a maximum matching for bipartite graphs. If you have not heard about this algorithm, we recommend having a look at it before proceeding with the Blossom Algorithm: Hopcroft-Karp Algorithm
We further assume that you are familiar with graph traversal, especially Breadth-First Search.
This website presents a visualization and detailed explanations of Edmonds's Blossom Algorithm. You can create a new graph, execute the algorithm on this graph to compute a maximum matching, and learn more about the theoretical backgrounds of the algorithm.
What do you want to do first?