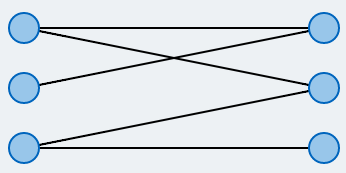 How big is the maximal matching?
Bipartite Matching
One possible application for the bipartite matching problem is allocating students to available jobs. The problem can be modeled using a bipartite graph: The students and jobs are represented by two disjunct sets of vertices. Edges represent possible assignments (based on qualifications etc). The goal is to find as many valid assignments as possible, such that each student can only take one job and each job can only be performed by a single student.
Let \( G=(V,E)\) be a given undirected graph. A subset \(M \subseteq E\) is called a matching, if no two edges in M share a node. A matching M is called maximal, if the cardinality of M is maximal amongst that of all matchings. In many real world problems, elements from multiple classes have to be assigned to one another. Whenever there are exactly two such classes, the problem is called bipartite matching.
Here we demonstrate the Hopcroft-Karp algorithm that solves the problem of finding maximal matchings on bipartite graphs.
What do you want to do first?