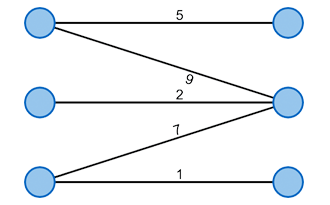 What's the optimal matching?
Matchings of optimal Weight
We extend the example of matching students to appropriate jobs by introducing preferences. Now, we aim to find a matching that will fulfill each students preference (to the maximum degree possible).
Finding matchings between elements of two distinct classes is a common problem in mathematics. In this case, we consider weighted matching problems, i.e. we look for matchings with optimal edge weights.
The Hungarian Method, which we present here, will find optimal matchings in bipartite graphs.
What do you want to do first?