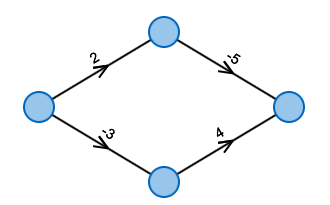 What's the cheapest way from left to right?
Shortest paths and cheapest paths
In many applications one wants to obtain the shortest path from a to b. Depending on the context, the length of the path does not necessarily have to be the length in meter or miles: One can as well look at the cost or duration of a path – therefore looking for the cheapest path.
This applet presents the Bellman-Ford Algorithm, which calculates shortest paths even when cost can be negative.
What do you want to do first?